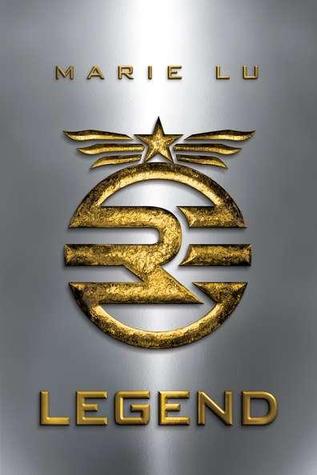 Spoiler alert.


Let's start off with the basics. I love this book. So much.
And I am incredibly glad that Marie Lu has added it to the YA world, and also to my bookshelf. I'm sure I will pick up
Legend
on random days and reread certain parts for fun. Something I rarely do, and have only done for
Harry Potter
and
The Hunger Games.
This book is for both men and women.
Action, suspense, crimes, and a hot girl that kicks ass for the guys. Girl power, a little bit of sadness and hope for the girls. Not to say that guys can't like the girly aspects and vice versa.
Synopsis brought to you by Barnes & Noble
What was once the western United States is now home to the Republic, a nation perpetually at war with its neighbors. Born into an elite family in one of the Republic's wealthiest districts, fifteen-year-old June is a prodigy being groomed for success in the Republic's highest military circles. Born into the slums, fifteen-year-old Day is the country's most wanted criminal. But his motives may not be as malicious as they seem.
From very different worlds, June and Day have no reason to cross paths - until the day June's brother, Metias, is murdered and Day becomes the prime suspect. Caught in the ultimate game of cat and mouse, Day is in a race for his family's survival, while June seeks to avenge Metias's death. But in a shocking turn of events, the two uncover the truth of what has really brought them together, and the sinister lengths their country will go to keep its secrets.
Review
Legend
is so cinematic, I found myself forgetting I was reading a book, and instead sitting at a theater watching a movie.
I got attatched to the characters so much in this book, I found myself sad when Metias passed, and was actually slightly sad the rest of the day. Something that hardly ever happens for me. Don't worry about me though, I felt better after June vowed she was going to hunt and kill her brother's murderer, and I knew the rest of the book was going to be great. And sure it was! Marie Lu has written an absolutely incredible book that I simply love.
Legend is the absolute perfect blend of crime, mystery, suspense and romance.
I give Legend a 9.5/10. I highly recommend picking this book up your next time out, or renting from your local library. You will not be disapointed.
Movie News
Shortly after reading, I found out a movie adaptation of Legend was in pre-production. I will definitely be keeping you guys up to date with this!
***
I hope you check out
Legend
then come back to discuss!
Question of the post (FOR THE COMMENTS):
Who do you think should play June?
This post was written by Jake Vineyard
@Jake_Vineyard
thevivacitystaff@gmail.com